Books: Michael Stoddard American Revolution Mysteries
In Mysteries of the American Revolution, Michael Stoddard, a young British officer, appears as a minor character. Now he has his own series.
The year is 1781. The Eighty-Second infantry regiment, Stoddard's unit, occupies the port town of Wilmington, North Carolina. Its mission is to assist Lord Cornwallis in subduing the rebellion. Stoddard's commander assigns him to investigate local civilian crimes. But these crimes are never as simple as they first appear—for the color of a man's coat doesn't always signify his allegiance.
Deadly Occupation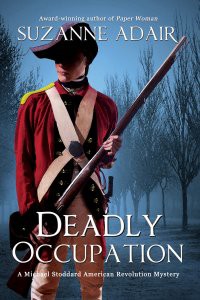 A wayward wife, a weapons trafficker, and a woman with "second sight"—it's a puzzle that would have daunted any investigator. But Michael Stoddard wasn't just any investigator.
Late January 1781, in coastal North Carolina, patriots flee before the approach of the Eighty-Second Regiment, leaving behind defenseless civilians to surrender the town of Wilmington to the Crown. The regiment's commander assigns Lieutenant Michael Stoddard the tasks of tracking down a missing woman and probing into the suspicious activities of an unusual church. But as soon as Michael starts sniffing around, he discovers that some of those not-so-defenseless civilians are desperately hiding a history of evil.
"A time machine to another time and place by masterful storyteller Suzanne Adair." — Midwest Book Review
Buy:
Kindle US
~
Kindle UK
~
Nook
~
Apple
~
Kobo
~
Paperback
Regulated for Murder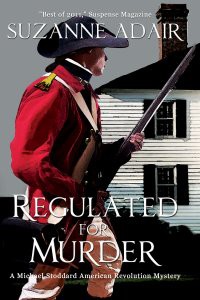 For ten years, an execution hid murder. Then Michael Stoddard came to town.
Bearing a dispatch from his commander in coastal Wilmington, North Carolina, redcoat Lieutenant Michael Stoddard arrives in Hillsborough in February 1781 in civilian garb. He expects to hand a letter to a courier working for Lord Cornwallis, then ride back to Wilmington the next day. Instead, Michael is greeted by the courier's freshly murdered corpse, a chilling trail of clues leading back to an execution ten years earlier, and a sheriff with a fondness for framing innocents—and plans to deliver Michael up to his nemesis, a psychopathic British officer.
Awards:
Suspense Magazine
"Best of 2011"
"Driven by a desire to see justice done, no matter what guise it must take, [Michael Stoddard] is both sympathetic and interesting." — Motherlode
Buy:
Kindle US
~
Kindle UK
~
Nook
~
Apple
~
Kobo
~
Paperback
A Hostage to Heritage
A boy kidnapped for ransom. And a madman who didn't bargain on Michael Stoddard's tenacity.
Spring 1781. The American Revolution enters its seventh grueling year. In Wilmington, North Carolina, redcoat investigator Lieutenant Michael Stoddard expects to round up two miscreants before Lord Cornwallis's army arrives for supplies. But his quarries' trail crosses with that of a criminal who has abducted a high-profile English heir. Michael's efforts to track down the boy plunge him into a twilight of terror from radical insurrectionists, whiskey smugglers, and snarled secrets out of his own past in Yorkshire.
Awards:
Indie Book of the Day Award recipient
"Suzanne Adair is on top of her game with this one." — Jim Chambers, Amazon Top 10 Reviewer
Buy:
Kindle US
~
Kindle UK
~
Nook
~
Apple
~
Kobo
~
Paperback