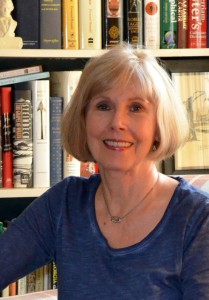 Relevant History welcomes Anne Lovett, a native Georgian descended from generations of cotton farmers, as well as teachers, preachers, and pioneer women from the Wiregrass region. She has published literary short stories, personal essays, journalism, and poetry. She lives in Atlanta with her husband and rescue cat. Rubies from Burma, a finalist in the Pacific Northwest Writers Competition, is her first novel, and has recently earned a Kirkus-starred review. For more information about her and her books, visit her web site, and follow her on Facebook.
*****
"Did Americans really serve in Burma in World War II?" someone asked recently. "That is, besides the Flying Tigers?" The legendary group of American fighter pilots flew for China before Pearl Harbor, gaining fame from a 1942 movie about their exploits. (There's talk of another film in the works.)
"Have you heard of Merrill's Marauders?" I countered. "The Burma Road? The Army Corps of Engineers helped to build that. And," I said, "the movie Francis, the Talking Mule, was set in Burma."
"Oh, yes!" was the answer. But how quickly we forget.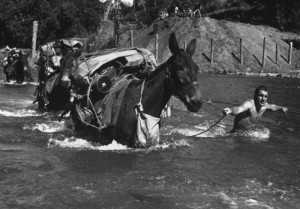 Some people think that Vietnam was American's first taste of jungle warfare. While researching Burma's involvement in World War II, it struck me that if our military could have taken what was learned in Burma and applied those lessons in Indochina, lives might have been saved.
Of course, Burma wasn't America's main interest as we struggled in Europe and the Pacific. The country was then a colony of the British, and the Burmese had been clamoring for independence. Did America really want to save Britain's colonial presence? But the Japanese plan was to create their own empire. Our interest was in driving out the Japanese and ending their plans of conquest.
OSS and Detachment 101
An important part of this American strategy was Detachment 101 of the OSS. The Department of Information, later to become the Office of Strategic Services, was President Roosevelt's brainchild, a way for him to get clandestine information about the enemy firsthand. That office found the supremely able Captain Carl Eifler, who'd headed a successful spy mission in Mexico, and appointed him to lead a contingent of well-trained officers and enlisted men into Burma, behind the lines, for information-gathering, sabotage, and rescue missions.
Why did I choose that service for my hero, an honest, upright guy? Doing so gave me a poignant question to explore in my novel. What would happen if a soldier found that to do his duty, to use his talents to help win the war, he had to take actions that went against his core values? I wanted to tell that story. As well, I had a logistical reason to choose Detachment 101.
All I knew about my character when I began writing Rubies from Burma was that he served in Burma, had come back with "battle fatigue", what we now call PTSD, and brought rubies. I had to come up with the details. I didn't see him building a road, I didn't want him to be a pilot, and Merrill's raid came at the wrong time in the war for my purposes. That left Detachment 101, its mission, and its question for my hero.
Research for Rubies from Burma
My research involved reading as much about that war as I could. History class was far behind me, so to brush up my knowledge, I watched both the mini-series "The Winds of War" and "War and Remembrance," based on the novels by Herman Wouk. I then plunged into reading books. (See bibliography at the end of this essay). After I finished my reading, I felt I had a good enough window into the mind of my soldier to allow me to write his war diary.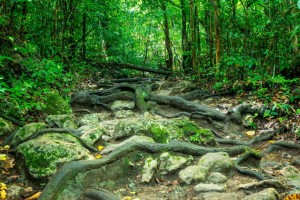 I found during my reading that the Burmese nation consisted of many different tribes or ethnic groups, some with customs which might seem primitive, such as cutting off the heads of their enemies and drying them. They had no love for the British, but they wanted badly to drive out the Japanese, and were willing to help the Americans fight them. The Kachins, for instance, knew the jungle, and were willing to lead those who parachuted there to safety. They had their price, and it wasn't American dollars. What they wanted was opium.
Whatever it takes, was the attitude. Opium was acquired. What was not so easy to come by was weaponry other than spears and knives to fight the invaders. They wanted guns. How to arm these fierce fighters? The officers in charge sent back to the U.S. and found, with the war raging in Europe and the Pacific, that there were no guns to be spared for this mission.
Eifler, by then a colonel, insisted that they had to have some kind of weapon. Finally crates arrived from America. Opening them, the Americans were stunned to see muzzle-loaders left over from the Civil War. A large cache had been had been found in an Army warehouse.
The locals happily put them to use.
Partial Bibliography for Rubies from Burma:
— This Grim and Savage Game: O.S.S. and the Beginning of U.S Covert Operations in WWII, Tom Moon, Burning Gate Press, Los Angeles, 1991
— A Connecticut Yankee in the 8th Gurkha Rifles: A Burma Memoir, Scott Gilmore with Patrick Davis, Brassey's, Washington, 1995
— Quartered Safe Out Here: A Recollection of the War in Burma, George MacDonald Fraser, HarperCollins, London, 1995
— Battle for Burma, E.D. Smith, Holmes & Meyer, New York, 1979
— The Stilwell Papers, Joseph W. Stilwell, Willian Sloane Associates, New York, 1948
— Burma Surgeon, Gordon S. Seagrave. M.D, W.W. Norton, 1943
— Wartime: Understanding and Behavior in the Second World War, Paul Fussell, Oxford University Press, 1989
*****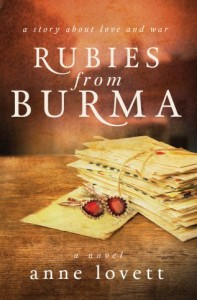 A big thanks to Anne Lovett. She'll give away an ebook copy of Rubies from Burma to someone who contributes a comment on my blog this week. I'll choose the winner from among those who comment by Friday at 6 p.m. ET. Delivery is available worldwide.
**********
Did you like what you read? Learn about downloads, discounts, and special offers from Relevant History authors and Suzanne Adair. Subscribe to Suzanne's free newsletter.