For the Media
Suzanne Adair's Bio:
Award-winning novelist Suzanne Adair is a Florida native who lives in North Carolina. Her mysteries transport readers to the Southern theater of the American Revolution, where she brings historic towns, battles, and people to life. She fuels her creativity with Revolutionary War reenacting and visits to historic sites. When she's not writing, she enjoys cooking, dancing, and hiking.
Click on the image below to download a high-resolution photo of Suzanne Adair.
Sample Interviews:
Recorded live interviews
Writing Historical Novels with Strong Women Characters
Interview with Writer Suzanne Adair
Blog interviews
Mysteristas interviews Suzanne Adair
Ally Shields interviews Suzanne Adair
Book Information:
A Hostage to Heritage: A Michael Stoddard American Revolution Thriller
Awards:
Indie Book of the Day Award recipient
"Suzanne Adair is on top of her game with this one." — Jim Chambers, Amazon Hall of Fame, Top 10 Reviewer
"[Suzanne Adair] truly deserves to be called 'the Mistress of American Revolution historical fiction!'" — aobibliophile™
"A skillful merger of history and suspense." — Suspense Magazine
Regulated for Murder: A Michael Stoddard American Revolution Thriller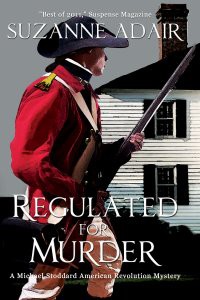 Awards:
Suspense Magazine
"Best of 2011"
"First rate historical fiction and a heck of a good murder mystery." — Jim Chambers, Amazon Hall of Fame, Top 10 Reviewer
"This is mystery writing at its best." — Great Historicals
"With a few deft strokes, [Adair] re-creates a time when the world was lit by a few candles and traveling from Wilmington to Hillsborough...took five grueling days on horseback." — Wilmington Star-News
Deadly Occupation: A Michael Stoddard American Revolution Thriller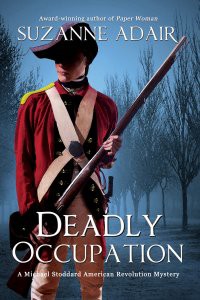 "Thick with intrigue and subplots to keep readers guessing." — Caroline Clemmons, author of the "Kincaids" series
"...action-packed scenes, twists and turns, well-developed characters and engaging, fast-paced storyline." — aobibliophile™
"[Michael Stoddard] is not a stereotypical hero…He's a hard-working man in a difficult situation, someone I think most readers will be able to identify with and root for." — Amber Foxx, author of the Mae Martin Mysteries series
Camp Follower: A Mystery of the American Revolution
Awards:
Daphne du Maurier Award for Excellence in Historical Mystery/Suspense nominee
Sir Walter Raleigh Award for Fiction nominee
"Adair wrote another superb story." — Armchair Interviews
"Full of details, a unique historical perspective, an elaborate plot, and outstandingly strong characters, Camp Follower is a historical mystery with something to please everyone." — No Name Café
"Adair takes her reader on an exciting adventure, filled with historical fact wrapped around an intriguing plot." — Midwest Book Review
The Blacksmith's Daughter: A Mystery of the American Revolution
"History and fiction combined to tell a great story." — Armchair Interviews
"Suzanne Adair follows up her award-winning debut with another, subtler, high-stakes adventure tale." — Front Street Reviews
"Adair holds the reader enthralled with constant action, spine-tingling suspense, and superb characterization..." — Midwest Book Review
Paper Woman: A Mystery of the American Revolution
Awards:
Patrick D. Smith Literature Award recipient
"A swashbuckling good mystery yarn!" — The Wilmington Star-News
"A humdinger of an action-adventure story wrapped around a mystery." — Red Adept Reviews
"An exhilarating story that will captivate the reader from beginning to end." — Midwest Book Review