Relevant History welcomes Diana Rubino and Piper Huguley, authors of Oney: My Escape From Slavery.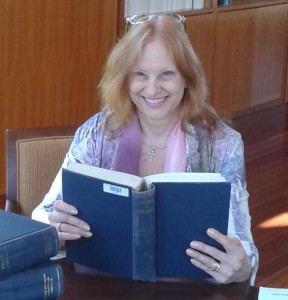 Diana's passion for history and travel has taken her to every locale of her stories, set in Medieval and Renaissance England, Egypt, the Mediterranean, colonial Virginia, New England, and New York. Her urban fantasy Fakin' It won the Romantic Times Top Pick award. She is a member of Romance Writers of America, the Richard III Society and the Aaron Burr Association. When not writing, she runs CostPro, Inc., an engineering business, with her husband Chris. For more information about her and her books, visit her web site, and follow her on Facebook and Twitter.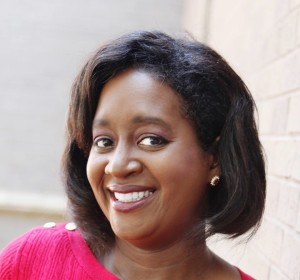 Piper Huguley is a two-time Golden Heart® finalist and author of the "Home to Milford College" series, which follows the building of a college from its founding in 1866. Book #1, The Preacher's Promise, was named a Top Ten Historical Romance in Publishers Weekly and received Honorable Mention in the Writers Digest Contest of Self-Published e-books. Her new series "Born to Win Men" starts with A Champion's Heart. She lives in Atlanta with her husband and son. For more information about her and her books, visit her web site, and follow her on Facebook and Twitter.
*****
When I began researching Oney: My Escape From Slavery, I read numerous books about slavery and the Washingtons in particular, because Oney was Martha Washington's slave. I learned many facts about George and Martha Washington that are not taught in school. Because she was a mulatto, and light-skinned, Oney was allowed to work in the "big house" as Martha's housemaid.
The Washingtons considered themselves generous with their slaves, but in our modern view, we would consider them extremely stingy. They rationed their slaves' food and clothing. Martha took Oney on shopping trips, to the theater, and to visit her lady friends. She dressed Oney in the same finery as her granddaughters, though Oney, an expert seamstress, sewed it all. Oney had many more clothes than the one petticoat, two shifts, one jacket and pair of stockings a year the field women got. (The men were given one pair of homespun breeches a year.) Oney enjoyed sweets, while the field slaves got their weekly rations—a few pounds of pork, usually poor cured salt herrings, and a handful of Indian corn. George weighed each grain and morsel so nobody got more than their share.
The Washingtons were a bit stingy with calling slaves by their proper names—a handful of slaves were called Old Wench, Old Nanny, and Young Fellow. They gave Sambo the nickname Sammy. Oney's given name was Ona, Latin for "unity" or "harmony."
It was illegal for slaves to be literate, but Martha allowed Oney to learn to read and write. She learned from Hercules, the cook, who escaped just before Oney did, also never to return.
George boasted that he never separated families, as did many heartless slave owners, and never beat his slaves. But to punish some of them, he sold them to plantation owners in the West Indies, where labor was especially brutal under the scorching sun. It's well known that he wore dentures, reported to be made from ivory, wood, and hippopotamus. In fact, some of the false teeth came from animals, and he bought some of them from his slaves. He had a French dentist extract them.
Martha called teenaged Oney her "favorite servant." Oney and Martha both longed for freedom, but in very different ways. While Martha hated being confined to the president's house, forced to entertain politicians and diplomats, Oney hated being property, forced to wait on her owner day and night.
As Martha hosted her tea parties and levees, she became close friends with several forward-thinking women, such as Abigail Adams and Judith Murray, feminists of the time. Their radical ideas rubbed off on Martha—education and job training for women to be self-supporting instead of depending on husbands. By the end of George's term, she experienced a steep character arc. She even changed her attitude toward slavery.
When Oney escaped at age twenty, at the end of George's final term, Martha was very resentful: "She was more like a child to me than a servant." The Washingtons knew that she'd escaped to Portsmouth, New Hampshire and made several attempts to recapture her. But in a sudden act of lenience, Martha gave up on Oney and let her remain free. During her husband's presidency, Martha complained, "I am more like a state prisoner," so perhaps she put herself in Oney's place and realized she deserved liberty, too.
*****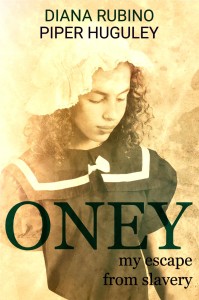 A big thanks to Diana Rubino and Piper Huguley. They'll give away an ebook copy (Kindle format only) of Oney: My Escape From Slavery to someone who contributes a comment on my blog this week. I'll choose the winner from among those who comment by Friday at 6 p.m. ET. Delivery is available worldwide.
**********
Did you like what you read? Learn about downloads, discounts, and special offers from Relevant History authors and Suzanne Adair. Subscribe to Suzanne's free newsletter.