Relevant History welcomes Penny Richards, published since 1983 with just over forty books to her credit. Mostly contemporary romance, her books have won several industry awards, including a Romantic Times Lifetime Achievement Award, Reader's Choice award, and a RITA nomination. Several titles have made various bestseller lists. An Untimely Frost, first book of the Lilly Long mystery series for Kensington Publishing, debuted August 2016. Wolf Creek Wife, fifth title in the Wolf Creek series for Harlequin Love Inspired Historicals, is also an August 2016 release. The second Lilly Long mystery, Though This Be Madness, is scheduled for May 2017. To learn more about her and her books, visit her web site, and follow her on Facebook and Twitter.
*****
My new Lilly Long historical mystery series is about a headstrong, untraditional Shakespearean actress who becomes a Pinkerton operative. Since I'm an old(er) traditional, conventional woman, you can imagine my surprise when, during the course of my research, I found myself on a site about "women's issues." Until that moment, I hadn't thought of Lilly's driving ambition to help women who'd been victimized by unscrupulous men in those terms. To me, she was just a woman who'd been wronged by a slick, conniving man when her new husband stole her savings and left her high and dry, a woman who, at the age of eleven was hiding nearby when she heard her mother being killed by one of her many lovers.
After thinking on it a while, I realized that's exactly what I was writing about, intentionally or not. I don't consider myself a feminist, but I am all about balance and fairness, and anyone with at least a modicum of knowledge about the customs of the past knows that without the fearless females who led the way for a more open-minded treatment, we would not be where we are today.
Lilly is a woman who flaunts convention by seeking out a man's job during a time when women were denied a voice in much of anything or "protected" by their husbands, (often chosen for them) who often considered them nothing more than second-class citizens or a means to get children.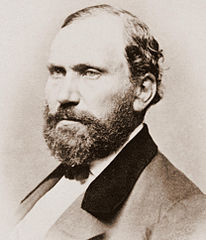 Allan Pinkerton, the man who gives her a chance to make a difference, is the son of Isabella and William Pinkerton. Allan was born in a poor section of Glasgow, Scotland, called the Gorbels, an area known for its high crime and social injustices, so his decision to start his own detective agency makes a lot of sense.
Allan and his women
While researching the first book, I learned some interesting things about Allan's attitude toward women, their capabilities, and his belief they possessed the intelligence and skill to be useful in his business, something he proved when he hired the first female detective, a young widow named Kate Warne. Kate pled her case by telling him she could "worm out" information in places his male detectives couldn't. To Allan, whose motto was "the ends justify the means," the idea was intriguing. He hired her the following day, and in the many years she worked for him, she never disappointed him.
There were others through the years that Allan used in exactly the way Kate had suggested, posing as wives to get close to another woman, infiltrating Baltimore society in hopes of gaining information, acting as spies during the war or just friends who aided and secured care for them.
Then, in late 1876, a somewhat funny debacle occurred within the agency. Allan's son Robert, George Bangs, and Benjamin Franklin, once the police chief of Philadelphia, decided to band together and refuse to hire any more women, something Allan had ordered after Kate's death. His reaction to their mutiny was to transfer Mrs. Angela Austin, a pretty actress who worked out of the Chicago office, to Philadelphia to prove that he was still in control and would be until his death. That ended that argument.
I've wondered if Allan's willingness to work with women and to draw on the skills of various actresses was based, at least in part, because of his devotion to his hard-working mother, who, along with eight-year-old Allan, were the sole support of the family when his father died. Or perhaps it had something to do with how he met his entertainer wife, pretty Joan Carfrae, the soprano for the Unitarian Church choir whom he was immediately smitten with when he first saw her.
The Pinkerton code of ethics
Rates varied from $3.00 to $10.00 per day, and at the beginning of each assignment, the agent was given a small journal outlining the client's problems and ideas about how to go about solving them. No client ever met the detective working his case, and undercover "stings" were often used, which is one of the times women operatives became invaluable. Allan's feelings about women were further laid out in the agency rules he drafted, called General Principles. These unchanged, guiding principles are still the underpinnings of the agency today, though there have been some additions. Among the early regulations, which included things like not accepting rewards, gifts, investigating union meetings, or working for political parties was the promise to "…never investigate the morals of a woman unless in connection with another crime, nor…handle cases of divorce or of a scandalous nature." These rules are still in place.
This standard, along with Pinkerton's belief in a woman's competence and usefulness, combined with Lilly's personal experiences, are what motivated her and a other intrepid females to fight against the injustices, and limitations of the time and help them gain a more equitable position and louder voice in 1900's society. It is this same sort of bold woman who is forging new paths for women today.
*****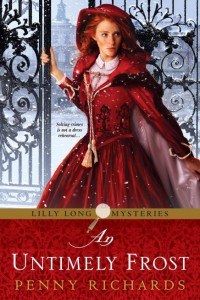 A big thanks to Penny Richards. She'll give away a trade paperback copy of An Untimely Frost to someone who contributes a comment on my blog this week. I'll choose the winner from among those who comment by Friday at 6 p.m. ET. Delivery is available in the U.S. only.
**********
Did you like what you read? Learn about downloads, discounts, and special offers from Relevant History authors and Suzanne Adair. Subscribe to Suzanne's free newsletter.