Calendar: Raleigh and North Carolina During the American Revolution
Historically North Carolina is in the shadow of South Carolina when it comes to the American Revolution. Thus I've set the Michael Stoddard American Revolution series in North Carolina to show the influence of the 82nd Regiment's occupation of Wilmington during the pivotal year 1781. Associated with the October 2015 release of Deadly Occupation, third book of this series, I'll embark upon a speaking and blogging tour (updated on Calendar) that spotlights North Carolina's rich history in the Revolution. Raleigh, North Carolina's capitol, will also be in focus; although there was no military action in the area, plenty was going on, and all of it was patriot-based.
Note: This page and the Calendar page will be updated.
Raleigh and North Carolina in Revolution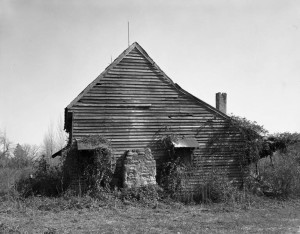 During the American Revolution, Isaac Hunter's tavern (in what would eventually be the metro area of Raleigh, North Carolina) earned a reputation for quality food and spirits and became a favorite of locals and travelers. It was one of the six different spots where patriot legislators met in secrecy to avoid discovery and retaliation from redcoats. Imagine the cloak-and-dagger atmosphere inside: patriots clustered at tables and speaking in low voices, lamplight and firelight flickering over their expressions.
After the Revolution, in 1788, representatives to the Constitutional Convention assembled in the tavern to determine a spot for the state's capitol. Colorful legend says they decided that it should be within a ten-mile radius of the tavern so legislators could continue enjoy the fare. Sensibly, however, that "ten-mile radius" included an east-west road that connected New Bern to western towns such as Salem, and a well-traveled north-south road that linked Petersburg, Virginia, and Charleston, South Carolina. In addition, Joel Lane (see below) made his fellow legislators an offer they couldn't refuse.
Recently historians located the foundation of the original tavern. A historical marker for its approximate site is located in Raleigh north of the beltline on Wake Forest Road—that major north-south road.
.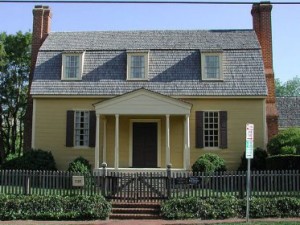 Joel Lane was a prominent landowner and politician during the American Revolution. He built his house in 1769 in the area that would eventually become downtown Raleigh, North Carolina. A member of the General Assembly and the county court, he was also a patriot militia colonel. At his house, he hosted a number of important meetings.
After the Revolution, Lane was involved in the decision at Isaac Hunter's tavern to select a permanent spot for the state capitol. In 1792, he and state legislators finalized the sale of a thousand acres of his land to establish the city of Raleigh. His house is located on Hargett Street in Raleigh, several blocks from its original location.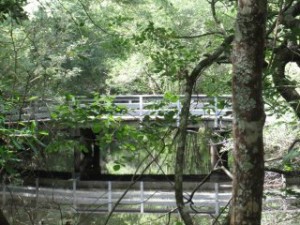 On 27 February 1776, at a place called
Moore's Creek
in Pender County, North Carolina, a group of nearly a thousand patriots sabotaged the bridge there. It helped them defeat loyalists, many of them Scottish highlanders. With this victory, patriots gained control of the state for almost five years. January 1781, when word first reached patriot leaders in Wilmington, North Carolina that a redcoat occupation force was headed their way, they blew off the news. They'd grown complacent. Thus on 28 January, when the 82nd Infantry Regiment marched for Wilmington, local militiamen and patriot leaders (including
William Hooper
, a signer of the Declaration of Independence) were caught by surprise. Many barely escaped with their lives. Some were caught and died as a result of the harsh treatment of redcoats. Defenseless civilians in Wilmington
courageously surrendered
to Major James Henry Craig and the 82nd. The regiment occupied Wilmington until November 1781. The entire time it was in the Cape Fear, it stymied movement of the Continental Army.

On 19 February 1781,
Lord Cornwallis and his army occupied Hillsborough
, North Carolina after chasing the army of General Nathanael Greene into Virginia. The British general had expected local loyalists to flock to the Crown's banner. Instead, he found the residents of Hillsborough apathetic, uninterested. It didn't help that Cornwallis
antagonized potential allies
in the area. Plus, ten years earlier, folks in Hillsborough had put up with royal governor Tryon
executing six Regulators
right there in town, so they weren't pleased to roll out the welcome mat. Cornwallis definitely felt the love; he had to alternate which inn he slept in to discourage assassins. He and his army departed town about a week later.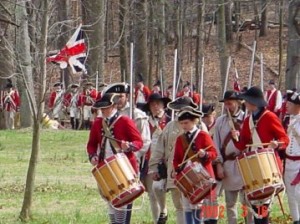 Technically, Lord Cornwallis could claim the victory in the 15 March 1781 battle against General Nathanael Greene's army at
Guilford Courthouse
. However the victory cost Cornwallis about a quarter of his army. It also sent him in retreat to redcoat-occupied Wilmington to refurbish his army. While in Wilmington, Cornwallis became enamored of the idea of marching to Virginia. In April, despite the fact that Major Craig counseled him otherwise, Cornwallis headed out to Virginia. Six months later, he and his army came to a dead-end at Yorktown. After enduring a brief
siege of his house
on 29 July 1781, militia Lt. Colonel Philip Alston surrendered to loyalist forces commanded by Lt. Colonel David Fanning and was paroled. A Huzzah! For Heroism goes to Alston's wife, Temperance Smith Alston. Fed up with having her house shot through with musket balls, and so fearful for her children's safety that she hid them in the chimney, she initiated a ceasefire by exiting the house and signaling for parley.