I admit to watching the Starz production of Diana Gabaldon's Outlander, set in eighteenth-century Scotland, with one eye on the characters' clothing. I've been a history buff and Revolutionary War reenactor for so long that I cannot help it. Hollywood revels in dressing actors for historical productions. However, we all know better than to believe that those costumes are completely accurate. Right?

Here's the character Claire Randall out of doors. Most of her clothing is fairly accurate for the time period. However none of the three pieces around her neck and shoulders is correct. For an eighteenth-century woman in the out-of-doors, especially a woman who isn't wearing a shawl, cape, or cloak, Claire is missing several very important articles of clothing. Common sense articles of clothing.
The bodices of eighteenth-century gowns tended to be low-cut, so a woman wore a neck kerchief for modesty when she left her home—and often when she was indoors. The neck kerchief came in several variations and could be worn outside the bodice or tucked into it. Outdoors, it protected a woman's chest from exposure to cold and blistering sunlight. It also shielded her skin from the bites of disease-carrying insects such as mosquitoes and ticks.
She wore a mobcap to cover most of her hair. The mobcap prevented the buildup of grease and dirt in her hair and kept the hair from having to be washed often. It also saved her from spending a lot of time fussing over her hair every day. Indoors, on certain occasions, she might opt out of wearing the mobcap. But when she went outside, the combination of the mobcap and a hat kept the sun out of her eyes and off the top of her head, and it acted as a barrier to those nasty bugs. In the winter, it helped keep her head warm.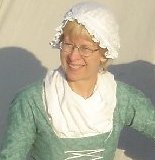 I've reenacted in living history events in the summer and winter. The kerchief does protect my chest. The mobcap and hat do protect my head. Eighteenth-century people knew what they were doing by using all that clothing. People of Western cultures in the twenty-first century think nothing of Claire's bare head and bare chest. However if she were truly in the eighteenth century, venturing outside without a neck kerchief and at least a mobcap would tell people that she'd lost her wits, or was sexually promiscuous, or both.
Enjoy those lovely "Outlander" costumes. But do remember to take them with a grain of salt.
**********
Did you like what you read? Learn about downloads, discounts, and special offers from Relevant History authors and Suzanne Adair. Subscribe to Suzanne's free newsletter.