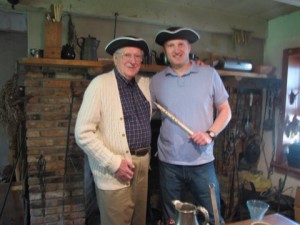 Relevant History welcomes Robert J. Skead, with Robert A. Skead, authors of YA historical fiction. Their ancestor, Lamberton Clark, one of the main characters in Patriots, Redcoats & Spies, fought in the Revolutionary War as a member of the Connecticut Militia and the Continental Army. Patriots, Redcoats & Spies includes many historical facts about the war and features events that took place in 1777 in Bergen County, New Jersey, where the Skeads live. To learn more about their books, visit their web site, and follow them on Facebook and Pinterest.
*****
The best part about writing Patriots, Redcoats & Spies, an American Revolutionary War adventure, was living in 1777—and becoming a teenage spy. You see, our protagonists were twin teenage boys, John and Ambrose Clark. And key to making their adventure real for the reader was the research involved, particularly involving the Culper Spy Ring.
The twins' father, Lamberton, is a spy/courier for the Culper Ring, and when he is shot by British soldiers while on a mission, he has only two hopes of getting the secret message he's carrying to General George Washington: his 14-year-old twin boys John and Ambrose.
The boys accept their mission without a clue about what they may be up against. They set off from Connecticut to New Jersey to find General Washington, but the road to the commander-in-chief of the Continental Army is full of obstacles—including the man who shot their father, who is hot on their trail.
I had plenty of help in the research about the Culper Spy Ring in the form of my father, Robert A. Skead (now 89-years-old and a member of the Sons of the American Revolution), who crafted the story with me. In the story, all the twins know is that the letter they carry is from Culper Jr. and is written in invisible ink—and that it's imperative they trust no one and place that letter in the general's hand, fast.
Culper Jr.'s real name was Robert Townsend. He operated in New York City, gathering information about British troop movements for General Washington. He made his fellow spy Abraham Woodhull, also known as Samuel Culper, pledge never to tell his name to anyone, not even to George Washington. Townsend posed as a Tory coffee shop owner and society reporter, which helped him gain information from British loyalists and soldiers at fellowship gatherings.
Invisible ink did exist during colonial times, and was used by the Culper Spy Ring with their messaging. The ink was developed by James and John (future chief justice of the U.S. Supreme Court) Jay. It was made of a mixture of water and ferrous sulfate, and could be read when activated by heat or when in contact with a reagent. Secret sentences were often crafted between the lines of real letters. That is the device we used in our story.
Tremendous success and secret codes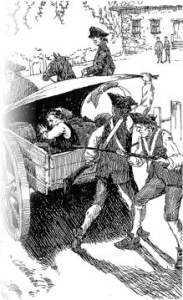 The Culper Spy Ring operated in the New York City tri-state area for five years, and they were very successful—no spy was ever unmasked. Washington himself didn't know their identities. To protect his spies identities, Major Benjamin Tallmadge, whom Washington appointed as head of the intelligence-gathering operation (the Culper Spy Ring), used a number system and pseudonyms in documents rather than their real names. The numbers pertained to words only discernable if one had the codebook divulging them.
Tallmadge used John Entick's New Latin and English Dictionary (1771). Only four copies of the codebook were made—one for him, one for Washington, and the others for the Culpers. His codes, for example, included General Washington as 711, Culper Jr. was 723, and 727 was used for New York. Overall, more than 760 numbers were used in his codebook.
Ben becomes a central character in our sequel story Submarines, Secrets and a Daring Rescue, which launches on 4 August 2015. Tallmadge's spy team was comprised of schoolmates from Long Island where he grew up. Other names of members included Sarah Townsend, Austin Roe, and Abraham Woodhull.
Petticoats and Benedict Arnold
Secret drop points, locations where messages would be hidden, were part of the spy ring's operations. Anna Strong, a member of the secret team, would hang a black petticoat on her clothesline, signaling another operative (Caleb Brewster) to retrieve the message. We used the black petticoat in the sequel adventure as well.
The Culper Spy Ring was also behind the capturing of the British spy Major John Andre, and had that not occurred, the British might have taken control of our fort at West Point through the traitorous efforts of Benedict Arnold.
So, right now, you know more about the Culper Spy Ring than the boys in Patriots, Redcoats & Spies. All they know is they have a mission to accomplish and that they have to somehow find a way to do it, which isn't easy because one of the boys, John, isn't quite sold on the concept that a cause can be worth dying for. He likes his life as it is. But the reality is none of our lives would be as they are now were it not for the brave men and women who operated as spies in the Culper Spy Ring and were it not for the wisdom of General George Washington, who understood the importance of intelligence and deception to win the war.
We had the pleasure of being spies in this operation, even if only in our imaginations, which was more than historical—it was quite an adventure.
*****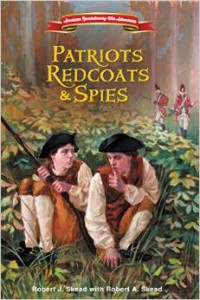 A big thanks to Robert Skead. He'll give away a hardback copy of Patriots, Redcoats & Spies to someone who contributes a comment on my blog this week. I'll choose the winner from among those who comment by Friday at 6 p.m. ET. Delivery is available in the US only.
**********
Did you like what you read? Learn about downloads, discounts, and special offers from Relevant History authors and Suzanne Adair. Subscribe to Suzanne's free newsletter.