Historical mystery author Clara McKenna describes the lot of America's richest Gilded-Age heiress, Consuelo Vanderbilt, who traded her large dowry for an English title.
~~~
Relevant History welcomes Clara McKenna, who writes the new historical cozy Stella & Lyndy Mysteries series about an unlikely couple who mix love, murder, and horseracing in Edwardian England. She is a member of Sisters in Crime and the founding member of Sleuths in Time, a cooperative group of historical mystery writers who encourage and promote each other's work. With an incurable case of wanderlust, she travels every chance she gets, England being a favorite destination. When she can't get to England, she happily writes about it from her home in Iowa. To learn more about her and her books, vist her web site, and follow her on Facebook, Instagram, and Goodreads.
*****
Consider how lucky you would be if a hundred years ago your grandfather immigrated to America with nothing more than a few pennies in his pocket, worked hard, invested well—and now you are heir to one of the largest fortunes in the country. In America of today, every opportunity for "life, liberty, and the pursuit of happiness" would be at your fingertips.
Not so for the nouveaux-riches of America during the Victorian and Edwardian eras. For decades, New York City was the epicenter of American high society, and New York's society was controlled by a select few of ruling establishment, with Mrs. Caroline Astor at the helm. Thus, despite a family's fortune, it was the opinion of these "Knickerbocker" families that mattered.
If Mrs. Astor spoke to you, your family might be allowed to enjoy the opera at the New York Academy of Music from the comfort of a box. If Mrs. Astor snubbed you, you'd find yourself quite lonely during promenades in the park. As Gail MacColl and Carol McD. Wallace write in To Marry an English Lord: Tales of Wealth and Marriage, Sex and Snobbery (2012), "…the crucial question was whether or not Mrs. Astor 'knew' you. Had she spoken to you at a tea party…had she invited you to her annual ball? If not, you'd best leave town or sit at home in the dark lest anyone know of your shame."
So, what was an American heiress to do if her family was considered unworthy of a call from Mrs. Caroline Astor? She and her family applied the same "can do" spirit and entrepreneurial know-how they used to acquire their vast wealth and devised a way around these social constraints. For over forty years, starting just after the Civil War, hundreds of daughters of America's most-wealthy found their way across the Atlantic to England and into the parlors and ballrooms of some of Britain's most influential and powerful aristocratic families.
With large crumbling country estates, decreasing revenues, and pressures to maintain a lifestyle no longer fiscally possibly, a money-strapped British aristocracy in desperate need of an infusion of funds welcomed these women in a way that hadn't happened in New York. To satisfy both the nobles' need for cash and the Americans' need to solidify their social standing back home, over a hundred "Million Dollar Princesses"—daughters of bankers, industrialists and railroad barons, including a Colgate, Fish, Goelet, Gould, Jerome, Vanderbilt and Whitney—exchanged dollars for titles, by marrying into the highest levels of British society.
Some did so willingly; some were not given a choice. America's richest heiress, Consuelo Vanderbilt, was a spectacular example of the latter. In love with another man, she was bullied relentlessly by her mother until she agreed to marry the Duke of Marlborough. Consuelo was thought to have been heard weeping beneath her wedding veil during the ceremony. She divorced the Duke in 1920.
How ever they landed into the British aristocracy, these American women left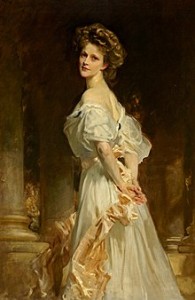 an indelible mark. Nancy Langhorne Astor, of Virginia, became the first woman to sit as a Member of Parliament. Jennie Jerome Spencer-Churchill, of New York, is best known as Prime Minister Winston Churchill's mother. Francis Work Burke Roche of Ohio's great-great-grandson, Prince William, will one day sit on the throne of England. So as even as Downton Abbey, the highly acclaimed television series, was inspired by these pioneering, unforgettable American women, so should we all be.
*****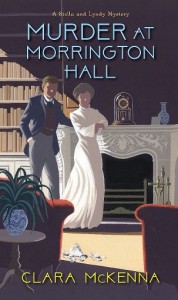 A big thanks to Clara McKenna! She will give away one hardback copy of Murder at Morrington Hall to a reader who contributes a comment on my blog. I'll choose the winner from among those who comment by Friday at 6 p.m. ET. Delivery is available in the U.S. only.
**********
Did you like what you read? Learn about downloads, discounts, and special offers from Relevant History authors and Suzanne Adair. Subscribe to Suzanne's free newsletter.