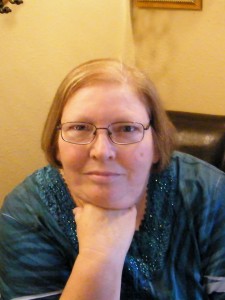 Relevant History welcomes back Gwen Mayo, who is passionate about blending her loves of history and mystery fiction. She currently lives and writes in Safety Harbor, Florida, but grew up in a large Irish family in the hills of Eastern Kentucky. She has a bachelor's degree in political science from the University of Kentucky, but her most interesting job was as a brakeman and railroad engineer from 1983–1987. She was one of the last engineers to be certified on steam locomotives. To learn more about her and her books, visit her web site and blog, and follow her on Facebook.
*****
The Builders
The Florida Land Boom began modestly. World War I made Europe inaccessible for wealthy Americans wanting an escape from cold winter storms. The search for warm weather far from the front lines turned their attention to the American retreats. Luxurious steamer cabins and palatial private railcars made traveling within the states easier than ever. It didn't take long for New England's upper crust to discover coastal Florida and dot the beachfront with a few grand resorts where "The Season" could be spent in comfort.
Florida didn't remain an exclusive winter playground for the rich and famous for long. Post-war prosperity and expanded rail travel made the state attractive to travelers of more modest means. America's growing middle class wasn't able to settle in to The Biltmore for the season, but they could afford to purchase a patch of sunshine in one of the future cities being mapped out by developers. Often, they would purchase a plot one year, then sell it the next year, making enough on the deal to pay for the next vacation.
Every year, a few more visitors decided to stay and build a seaside cottage or modest home. Florida might have continued along this path of steady growth had it not been for the grand schemes hatched by land developers and the availability of easy credit. Many development schemes never got off the drawing board. The ones that did leveled forests, drained swamps, and created new dry land by dredging the ocean floor.
The Speculators
With the developers also came a hoard of land speculators looking to strike it rich and a property madness akin to the California gold rush. Property prices skyrocketed as people purchased lots on credit with the sole intent to resell the land at higher prices.
By 1925, when the plans for New Homosassa began advertising, the Florida Land Boom had become a real-estate boondoggle with all the trappings of a circus sideshow. Developers printed a brochure of highly exaggerated claims of how much of the city was actually built. They promised their "Sportsman's Paradise" would have every modern amenity, movie theaters, two golf courses, a grand arcade, shops, broad thoroughfares, parks, … then, in October of 1925, the big three railroad companies called an embargo permitting only food, fuel, and essential commodities to move within the state.
The West Coast Development company countered by hiring a fleet of Cadillacs to transport their potential customers from Jacksonville to New Homosassa. They also chartered a special train to bring the press from St. Petersburg to cover the grand opening. Free food and all the oranges they could eat were supplied to the buyers. A marching band was brought in to build excitement on opening day. Speculators still clinging to the idea of getting rich in the great boom came to join the party.
What the developers were unable to do was find a way around the embargo on freight. New Homosassa managed to get much needed construction materials to finish most of the hotel an arcade, but could not get building materials in the quantities needed for constructing a city.
The Bust
In January 1926, a second blow to the real estate boom hit. Prinz Valdemar, a former Danish training ship converted to a floating hotel, ran aground in the Miami Harbor, blocking all shipping for nearly a month.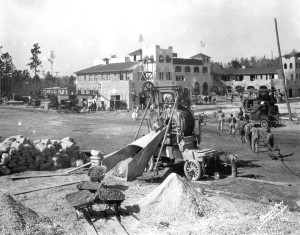 [Construction crews at work – Homosassa, Florida. 1926. Black & white photoprint, 8 x 10 in. State Archives of Florida, Florida Memory.] The crowds of speculators that showed up for New Homosassa's grand opening would be left holding the bag as the great Florida Land Boom became a huge bust. Two weeks after properties in New Homosassa went on sale, the New York Times reported a lull in Florida's real estate market. By March, property values were plummeting. Big investors pulled out, but not without taking big losses. Foreclosures snowballed.
A third and final blow made it clear that New Homosassa would never fulfill the grand vision of the West Coast Development Company's brochure. The wind started to howl through Miami on September seventeenth. It didn't stop there. The big blow worked its way up the Gulf Coast of Florida, destroying any hope of the real estate market recovering for decades. In its wake came devastation, disease, and economic ruin. Bodies in Miami had to be burned because there was no land for burial. The entire Gulf Coast suffered through one of the worst Atlantic storms to ever make landfall in the United States, and the Boom was over.
*****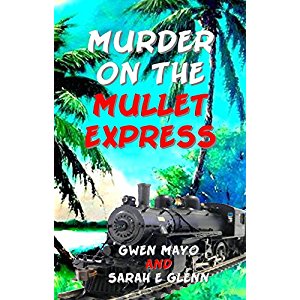 A big thanks to Gwen Mayo. She'll give away a paperback copy of Murder on the Mullet Express to someone who contributes a comment on my blog this week. I'll choose the winner from among those who comment by Friday at 6 p.m. ET. Delivery is available worldwide (wherever there is mail service).
**********
Did you like what you read? Learn about downloads, discounts, and special offers from Relevant History authors and Suzanne Adair. Subscribe to Suzanne's free newsletter.