Rel­e­vant His­tory wel­comes back Mary Reed. She and Eric Mayer con­tributed sev­eral sto­ries to mys­tery antholo­gies and Ellery Queen Mys­tery Mag­a­zine prior to 1999's One For Sor­row, the first novel about their pro­tag­o­nist John, Lord Cham­ber­lain to Emperor Jus­tin­ian I. Ten for Dying, the lat­est entry in a series Book­list Mag­a­zine named as one of its "Four Best Lit­tle Known Series," will be pub­lished in March 2014 by Poi­soned Pen Press. Find out more about the authors on their web site.
*****
As Two for Joy opens, our pro­tag­o­nist Lord Cham­ber­lain John sees a remark­able sight dur­ing a thun­der­storm in Con­stan­tino­ple: a stylite, one of those holy men who spend their lives perched atop a col­umn, bursts into flames.
Argu­ment about the cause of spon­ta­neous human com­bus­tion has raged in sci­en­tific pub­li­ca­tions and the pub­lic prints for at least the past cou­ple of cen­turies. In Famil­iar Let­ters On Chem­istry, In its Rela­tions To Phys­i­ol­ogy, Dietet­ics, Agri­cul­ture, Com­merce, and Polit­i­cal Econ­omy (1861), Jus­tus Liebig observed with some irri­ta­tion that a cause not under­stood is used to explain an occur­rence also not under­stood, the the­ory being dis­ease causes accu­mu­la­tion of com­bustible gas in cel­lu­lar tis­sue which "when kin­dled by an exter­nal cause, by a flame, or by the elec­tric spark, effects the com­bus­tion of the body."
Another "elec­tric spark" the­ory was ear­lier advanced by F. J. A. Strubel in an 1848 work, The Spon­ta­neous Com­bus­tion of the Human Body, With Espe­cial Ref­er­ence to its Medico-legal Sig­nif­i­cance, which spec­u­lates if elec­tric­ity is accu­mu­lated in the body and sub­se­quently dis­charged, spon­ta­neous com­bus­tion may occur.
J. G. Millingen's Curiosi­ties of Med­ical Expe­ri­ence (1839) cov­ers sev­eral of the bet­ter known cases, among them a priest whereby cir­cum­stances "…would seem to war­rant the con­clu­sion that the elec­tric fluid was the chief agent in the com­bus­tion." Millin­gen men­tions hydro­gen gas, which one expert notes can develop in those who suf­fer cer­tain dis­eases, with com­bus­tion result­ing from a unit­ing of hydro­gen and elec­tric­ity, pre­sum­ably mean­ing sta­tic elec­tric­ity as some­times occurs when we disrobe.
Tip­plers beware!
A remark­able let­ter to the edi­tor from one A. Booth of Colch­ester in the Sep­tem­ber 15, 1832 issue of The Mir­ror of Lit­er­a­ture, Amuse­ment, and Instruc­tion links drink­ing to spon­ta­neous com­bus­tion via witchcraft.
Cit­ing the 1744 case of Grace Pitt, an Ipswich fishmonger's wife, Booth states Grace was said to be a witch, adding it was well-known witch­craft could only destroy cer­tain parts of bod­ies and some mem­bers could be pro­tected against such spells. That Grace's hands and feet were not con­sumed when she caught fire was attrib­uted by coun­try peo­ple to just such a spell—did he mean duel­ing witches were involved? He fur­ther opines old ladies said to be witches were so-called from "…their exces­sive devo­tion to spir­i­tu­ous liquors, which…[in every case has] been found to pre­dis­pose to spon­ta­neous combustion…"
An unsigned arti­cle on Tem­per­ance and Tee­to­tal Soci­eties in the April 1853 issue of Blackwood's Edin­burgh Mag­a­zine relates John Ander­son, a car­rier, was found burnt to death in a road­side field. He was last seen in an extremely intox­i­cated state smok­ing a pipe. It is con­jec­tured a spark from his pipe ignited alco­hol fumes from his drink­ing and thus com­bus­tion occurred.
A let­ter in the Octo­ber 6, 1832 issue of the same mag­a­zine from W.A.R. of St Pan­cras, Lon­don, argues call­ing such cases spon­ta­neous is incor­rect, men­tion­ing Pierre Aimee Laire's Essay on Human Con­sump­tion from the Abuse of Spir­i­tu­ous Liquors, which states such cases occur when an imbib­ing individual's breath came into con­tact with a flame. W.A.R's the­ory is since Grace enjoyed an evening pipe and hav­ing lately con­sumed spir­its, while light­ing her pipe her breath caught fire and set fire to her spirit impreg­nated body.
The con­nec­tion between death by burn­ing and drink­ing, lead­ing to care­less­ness with lamps and so forth, is so obvi­ous it's hardly worth men­tion­ing, but what about some­one known to eschew all spir­i­tu­ous liquors? The insin­u­a­tion given is the vic­tim was prob­a­bly a secret tippler.
Used as defense in mur­der trial
In pos­si­bly the most inven­tive plead­ing heard in a crim­i­nal case, spon­ta­neous com­bus­tion was advanced as caus­ing the death of a count­ess in June 1847. A house­hold ser­vant even­tu­ally con­fessed to stran­gling her when dis­cov­ered steal­ing her jew­els, sur­round­ing her with inflam­ma­ble mate­r­ial, and set­ting it alight. Con­victed of rob­bery, mur­der, and arson, he later obtained a free pardon—on con­di­tion he emi­grated to Amer­ica, accord­ing to Sabine Baring-Gould's His­toric Odd­i­ties and Strange Events (1889).
An anony­mous arti­cle in the April 1861 issue of Blackwood's Edin­burgh Mag­a­zine points out actual evi­dence of the phe­nom­e­non was not known because all cases occurred when the per­son was alone and there­fore nobody could know what had hap­pened. How­ever, attempts to explain the phe­nom­e­non continue.
The debate con­tin­ues
In 2012 Pro­fes­sor Brian J. Ford of Cam­bridge Uni­ver­sity sug­gested ace­tone as a fea­si­ble cause of spon­ta­neous com­bus­tion. It seems under some con­di­tions such as dia­betes, alco­holism, cer­tain diets, or teething, the body cre­ates the highly inflam­ma­ble sub­stance. He reports acetone-soaked pork tis­sue was used to make scale mod­els of humans that were dressed and set alight, being reduced to ashes within thirty minutes.
Another expla­na­tion was advanced by Dr Matthew Ponting of the Uni­ver­sity of Liv­er­pool in a TV doc­u­men­tary last year. He inves­ti­gated Tutankhamun's mum­mi­fi­ca­tion, and it appears those car­ry­ing out the process did not fol­low the cor­rect pro­ce­dure or else made a mis­take. Exam­i­na­tion of the pharaoh's skin under a scan­ning elec­tron micro­scope showed car­boniza­tion, thought to be the result of a com­bi­na­tion of oxy­gen, the linen used in the process, and embalm­ing oils. As a result, he said, Tutankhamun's body appears to have "cooked" soon after it was mummified.
Mov­ing from sci­ence and crime to spon­ta­neous human com­bus­tion as a plot device, the best known instance is the fiery death of the tip­pler Krook, col­lec­tor of rags, papers, etc., as described in Dick­ens' Bleak House. Given our stylite was unlikely to be drink­ing spir­i­tu­ous liquors, we pro­vided a dif­fer­ent expla­na­tion for his ter­ri­ble death in keep­ing with the lim­i­ta­tions of the era.
*****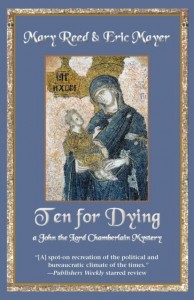 A big thanks to Mary Reed. She'll give away a .pdf copy of Ten for Dying to some­one who con­tributes a com­ment on my blog this week. I'll choose the win­ner from among those who com­ment by Fri­day at 6 p.m. ET.
**********
Did you like what you read? Learn about down­loads, dis­counts, and spe­cial offers from Rel­e­vant His­tory authors and Suzanne Adair. Sub­scribe to Suzanne's free newsletter.