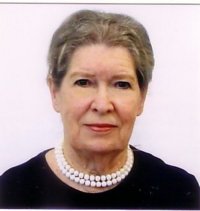 Rel­e­vant His­tory wel­comes his­tor­i­cal mys­tery nov­el­ist I. J. Parker, who has fol­lowed the exploits of her eleventh-century Japan­ese detec­tive, Aki­tada, in short story and novel since 1996. Her story "Akitada's First Case" won the Shamus award in 2000. Her nov­els have been trans­lated into sev­eral lan­guages. In addi­tion to the Aki­tada mys­ter­ies and sto­ries, she has writ­ten three nov­els set dur­ing the Heike Wars at the end of the twelfth cen­tury, and one about eighteenth-century Ger­many. For more infor­ma­tion, visit her web site.
Note: the Aki­tada novel Death on an Autumn River will be free in Ama­zon Kin­dle for­mat 23–26 November.
*****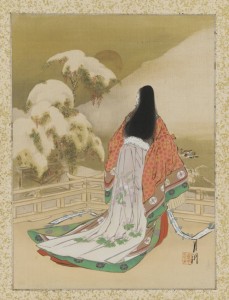 I first dis­cov­ered Asian his­tory, and more pre­cisely that of Japan, through its lit­er­a­ture, espe­cially the great novel Genji, writ­ten by a court lady in the first decade of the eleventh cen­tury and thus the first novel in the world. This book aston­ished me by its sophis­ti­ca­tion, its under­stand­ing of the psy­chol­ogy of men and women, its emo­tional and poetic response to nature, and its prob­ing of the human condition.
Not long after explor­ing Japan­ese lit­er­a­ture of this period, I became inter­ested in writ­ing mys­ter­ies and decided to write about early Japan. I was con­vinced that oth­ers would also come to love this strange, won­der­ful, and exotic cul­ture and dis­cover another world while spell­bound by a mys­tery plot.
Let me cau­tion you. Eleventh-century Japan is not the time of shoguns and samu­rai. Life was far more deco­rous then—at least on the sur­face. The coun­try was still ruled by an emperor and a com­plex cen­tral gov­ern­ment. Influ­enced by Tang China, Japan's cul­ture had reached its height of ele­gance and artis­tic achieve­ment by the eleventh cen­tury. The arts flour­ished, and both men and women of the upper classes played musi­cal instru­ments, painted, read and wrote poetry and prose in both Japan­ese and Chi­nese. They had uni­ver­si­ties, ele­gant palaces, huge tem­ple com­plexes, exquis­ite gar­dens and parks, and whole cities neatly laid out by the ancient rules of feng shui. The upper classes dressed in silks and bro­cades, enjoyed games like backgam­mon, chess, and go, and engaged in sports like foot­ball, wrestling, archery, fish­ing, and hunting.
But this advanced and lux­u­ri­ous cul­ture was con­trolled by a large, rigid bureau­cracy and sup­ported by the labors of peas­ants, fish­er­men, arti­sans, and mer­chants. Many of the com­mon peo­ple were very poor and lived in densely-packed, rat-infested neigh­bor­hoods. Some resorted to crime in city streets and on the high­ways. And in dis­tant provinces, war­lords were busily build­ing their armies. Unlike the Chi­nese, who took swift and bru­tal action against trai­tors and crim­i­nals, Japan's sys­tem of law and order for­bade the tak­ing of life, and con­se­quently crim­i­nals flour­ished because they could not be effec­tively restrained. Except for rare spe­cial cases, exile with hard labor or impris­on­ment were the only avail­able pun­ish­ments, and these were fre­quently nul­li­fied by sweep­ing impe­r­ial pardons.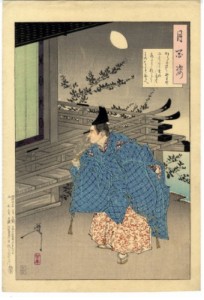 Against this back­ground, I con­ceived of men like Aki­tada, a civil ser­vant rep­re­sent­ing the law, a man of honor and duty. Such men would have had their hands full, espe­cially when crimes were com­mit­ted by the priv­i­leged who could count on sup­port from pow­er­ful men in the gov­ern­ment. In such cases, con­sid­er­able per­sonal dan­ger would be involved, as Aki­tada dis­cov­ers in Rashomon Gate and in the short story "Akitada's First Case."
Aki­tada is a mem­ber of the upper classes, but his fam­ily has fallen on hard times. Because he excelled at his law stud­ies at the uni­ver­sity, he was given a lowly posi­tion in the Min­istry of Jus­tice where his inter­est in "low crime" keeps him in con­stant hot water and gets him var­i­ous puni­tive assign­ments to unpleas­ant places. How­ever, this means that he makes inter­est­ing friends (like Tora, Genba, and Hit­o­maro) among the less priv­i­leged but more col­or­ful mem­bers of his soci­ety. We learn from his­tory that human beings don't change much over the cen­turies or geo­graphic dis­tances. Basic human traits are con­stant, and know­ing this allows us to under­stand the past by iden­ti­fy­ing with its people.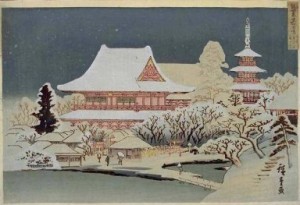 Aki­tada has taken me on many excit­ing adven­tures. We have explored Bud­dhist monas­ter­ies, vis­ited the impe­r­ial palace and its sur­round­ings, trav­eled to a penal colony, delved into a gold mine, and attacked a warlord's fortress. We have been to broth­els and bath­houses, shopped at mar­kets, viewed aris­to­cratic gar­dens, and roamed among pro­fes­sors and stu­dents at the uni­ver­sity. The peo­ple Aki­tada intro­duces me to are princes and pau­pers, offi­cials and out­laws, monks and cour­te­sans. We have vis­ited eleventh-century enter­tain­ers and sword smiths, wrestlers and mar­tial arts prac­ti­tion­ers together.
You may won­der how true to actual fact all these details are. I enjoy research, and have been work­ing on this period for thirty years now. I know the schol­arly and pri­mary mate­ri­als and do addi­tional research for each new novel or story. But I write fic­tion, not his­tory, and some­times facts have to be bent to the story. I try to do as lit­tle of this as pos­si­ble and add a his­tor­i­cal note at the end of each novel to explain the back­ground and any lib­er­ties I may have taken. For exam­ple, schol­ars don't know for cer­tain how long the famous Rashomon gate stood at the south­ern entrance to Kyoto, but the gate has enor­mous sym­bolic sig­nif­i­cance for early Japan­ese cul­ture and is famil­iar to many west­ern read­ers from the Japan­ese film by the same name. I used the gate for its his­tor­i­cal con­no­ta­tions but explained the prob­lems of dat­ing in the end note.
In the process of our imag­i­nary trav­els, I have become very fond of my pro­tag­o­nist. Aki­tada is by no means a per­fect man. He is shy, intro­verted, stub­born, rash, and judg­men­tal. He makes mis­takes and suf­fers the pangs of con­science for them. But he does not rest until the wrong has been righted, even if it means risk­ing his career, his life, or the lives of loved ones. In spite of all his flaws, he is ulti­mately a man of great courage and intel­li­gence, though he is com­pletely unaware of this. The women in his life love him and he loves them back, but he is an awk­ward and unin­ten­tion­ally insen­si­tive part­ner. Aki­tada is a man of early eleventh-century Japan, but he is always human, I hope, and human nature does not change much over the centuries.
I look for­ward to future adven­tures and to watch­ing him change from the naiveté of the very young man in The Dragon Scroll to a wiser, sad­der, and per­haps more trou­bled mid­dle age. The eleventh novel in the series, Death of a Doll Maker, was released this past sum­mer, and there are many oth­ers wait­ing, I hope.
*****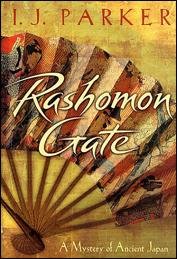 A big thanks to I. J. Parker. She'll give away one copy of an Aki­tada book to some­one who con­tributes a com­ment on my blog this week. I'll choose the win­ner from among those who com­ment by Tues­day at 6 p.m. ET. Then the win­ner may select either Rashomon Gate in hard­cover or The Hell Screen in trade paper­back Deliv­ery is avail­able within the U.S. only.
**********
Did you like what you read? Learn about down­loads, dis­counts, and spe­cial offers from Rel­e­vant His­tory authors and Suzanne Adair. Sub­scribe to Suzanne's free newsletter.