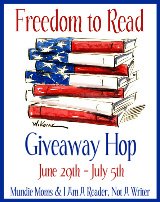 Welcome to my blog! The week of 29 June – 5 July, I'm participating with more than two hundred other bloggers in the "Freedom to Read" giveaway hop, accessed by clicking on the logo at the left. All blogs listed in this hop offer book-related giveaways, and we're all linked, so you can easily hop from one giveaway to another. But here on my blog, I'm posting a week of Relevant History essays, each one focused on some facet of the American War of Independence. To find out how to qualify for the giveaways on my blog, read through each day's Relevant History post below and follow the directions. Then click on the Freedom Hop logo so you can move along to another blog. Enjoy!
*****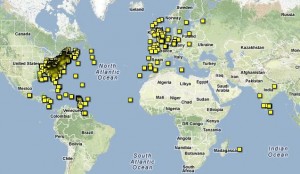 Some history teachers in high school impart upon their students the impression that the American War of Independence focused almost exclusively in the northernmost of King George the Third's colonies in America. What perspective might those students have instead, if they saw this map, where each yellow square marks the location of a known altercation during the war? (Click on the image to enlarge it. The map was created by historian and cartographer John Robertson, whom I interviewed a few years ago. Indulge your inner history geek on John's web site to learn details about each of those altercations.)
At first glance, it looks as though those teachers are justified to skew the history lessons. But exclude the area encompassed by the Northern theater—roughly New York, Pennsylvania, New Jersey, New Hampshire, Rhode Island, Connecticut, and Maine. Then consider how many yellow squares are left on the world map.
Subtracting the Northern theater puts but a small a dent in the quantity of yellow. From the spread and volume of the squares, it becomes clear that the lives of people living in the South, Midwest, Gulf Coast, Caribbean, and in Western Europe were also imperiled in this war.
What began as posturing and scuffling between Britain and her American colonies exploded into a war of international and naval significance: multiple powerful countries, multiple continents, multiple theaters. As with any far-reaching war, the economic shock waves rippled outward long after hostilities officially ceased.
Multiple powerful countries, multiple continents, multiple theaters. Do you think that qualifies the American War of Independence as a world war?
As I wrote last year, this is not your father's Revolutionary War. We aren't walking on the same turf that those history classes claim. In forthcoming essays from a diverse and stimulating group of historians, scholars, and artists, you'll read about multiple theaters, viewpoints other than those of ardent patriots, and life lived despite war.
Welcome to the Second Annual Week-Long Fourth of July.
*****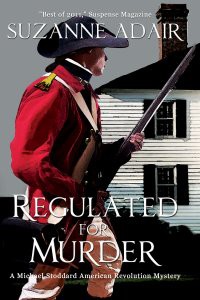 "Best of 2011!" says Suspense Magazine about my book Regulated for Murder: A Michael Stoddard American Revolution Thriller. Contribute a legitimate comment on this post by Saturday 30 June at 6 p.m. ET to be entered in a drawing to win one of two autographed copies of Regulated for Murder. Delivery is available worldwide. Make sure you include your email address. I'll publish the names of all drawing winners on my blog the week of 9 July.
**********
Did you like what you read? Learn about downloads, discounts, and special offers from Relevant History authors and Suzanne Adair. Subscribe to Suzanne's free newsletter.